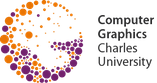 Jiří Vorba
---
---
Contact
Office: 1st floor, door 126, Malostranské náměstí 25, Prague, 118 00, Czech Republic
Email: jirka at cgg.mff.cuni.cz
Office phone: +420 22191 4442
---
Research Interests
Global Illumination, Realistic Rendering
Publications
Jiří Vorba, Ondřej Karlík, Martin Šik, Tobias Ritschel, Jaroslav Křivánek. On-line Learning of Parametric Mixture Models in Light Transport Simulation. ACM Trans. Graph. (SIGGRAPH 2014) 33, 4 (2014) ... DOI
Jiří Vorba and Jaroslav Křivánek. Bidirectional Photon Mapping. CESCG. 2011 ... Paper (2.2MB pdf) | Slides (2.5MB pptx)
Master thesis: Optimal Strategy for Connecting Light Paths in Bidirectional Methods for Global Illumination Computation. Charles University in Prague, Faculty of Mathematics and Physics. 2011.