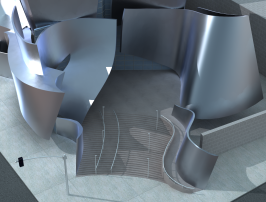 Robust and Efficient Light Transport Simulation
We focus on improving the robustness and efficiency of realistic rendering with global illumination. The goal is to design algorithms that can render environments with complex geometry, lighting, and materials in acceptable computation time. In the past, we have focused on illumination caching (SIGGRAPH 2008 Course, book, EGSR 2009 paper) and many-light rendering (SIGGRAPH Asia 2009, SIGGRAPH Asia 2010, SIGGRAPH 2010, EG 2012, EG 2013 STAR).
More recently, we have shifted our attention to robust Monte Carlo-based algorithms. Our major results in this area include Bidirectional Photon Mapping, Vertex Connection and Merging, Joint Importance Sampling, On-line Learning for Importance Sampling, Unified points, beams, and paths.
We regularly present reviews and surveys on global illumination and light transport simulation: SIGGRAPH 2010 Course, SIGGRAPH 2012 Course, EG 2013 STAR, SIGGRAPH 2013 Course, SIGGRAPH 2014 Course, ACM TOG 2014 paper.