Welcome to my website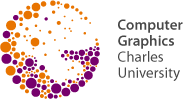 I used to be Ph.D. student under supervision of RNDr. Josef Pelikán at The Computer Graphics Group of Charles University, which is a part of the Department of Software and Computer Science Education at the University's Faculty of Mathematics and Physics.
I defended my thesis "Correspondence Problem in Geometric Morphometrics Tasks" on 21st of September 2015.
My research interests:
Geometric morphometry, applied statistics
Medical image processing, segmentation, registration and visualization
Parallel computing
Geometry, spline functions